SPANISH COURSES IN SPAIN
1st OPTION – ASK YOUR BROCHURE AND CHOOSE BETWEEN DIFFERENT SPANISH DESTINATIONS OFFERED BY A GOOD SCHOOL AS DON QUIJOTE – Choose from over 25 Spanish courses, of all different levels, and prepare yourself for an unforgettable experience, immersed in culture in a Spanish speaking country.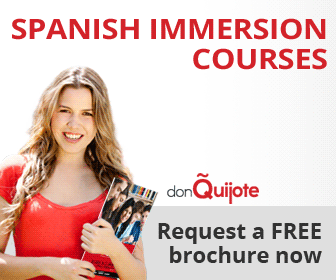 2nd OPTION – TAILOR MADE PROPOSAL FOR A SPANISH COURSE FREE OF CHARGE
Do you want to learn Spanish while enjoying the nice weather and the wonderful life in Spain? 
*Spanish Courses: Personalized proposal with the best Spanish courses adapted to your needs and with an extra discount. We will send you a proposal of different schools which we know and they combine good price and good quality.
Also, if you need accommodation while studying your Spanish course we can take care of that so in the proposal we will include accommodations that you can choose.
*Accommodation: We will send you a proposal with different options: rooms, apartments, youth hostels and apart hotels for short term and we will help you with all the reservation process. You will arrive to the city with a nice accommodation ready for you.
*Service: You'll be able to count on our assistance for a month after you arrive in Barcelona. You can contact us from 10:00 to 13:00 and 15:00 to 18:00 Monday to Friday by email, telephone or Skype. We'll also provide you with a telephone number that you may call at any time should you have an emergency.
*Pick up service: If you want that someone is waiting for you at the airport and drives you to your accommodation, we can arrange this for you.
*Activities:  The language schools always offer a wide range of activities for their students but, if you want, we can also send you in the proposal different kind of activities which you can book through us.
Procedure: 
-Send us an e-mail to holanda@hwhelloworld.com with Subject "Spanish course" and the following details: date in which you want to arrive to your destination, duration of your stay and also if you want that we include in the proposal accommodation, pick up service and/or activities.
-Pay the 50 euros commitment fee (this fee will be returned after you arrive to Barcelona and start the course)
-We will send you the proposal.
-You will choose the course, the accommodation, the pick up service and the activities.
-We will help you making the reservation.
-You will be ready to improve your Spanish while living a fantastic experience!
*Also Catalan courses available.
*Hiring our services you confirm that you accept the legal conditions.
*Our service and proposal is free of charge, only 50 euros commitment fee will be asked to start working on the proposal and returned once you started the course. You will have to pay for the Accommodation, course, transport and all you book.